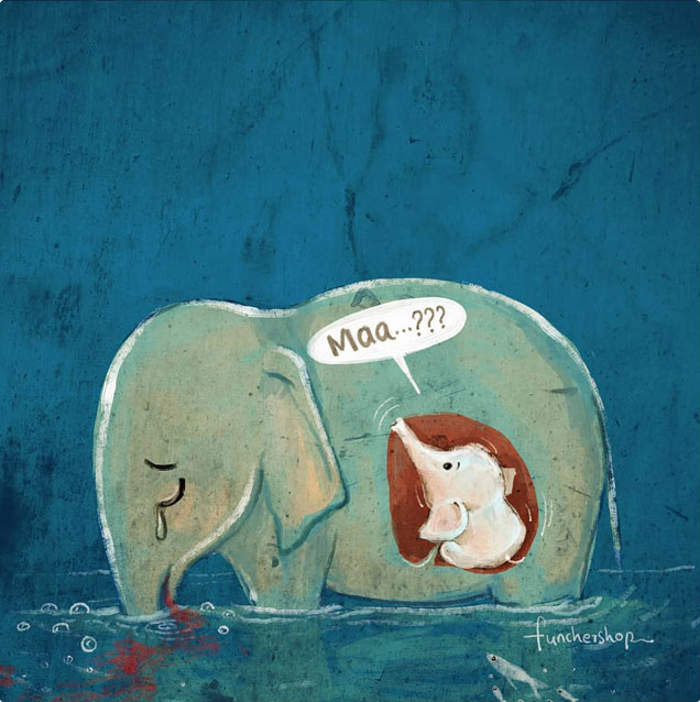 La morte di un elefante incinta in Kerala ( India) dopo aver mangiato un ananas ripieno di petardi ha suscitato indignazione da tutto il mondo sui siti di social media. Le foto dell'elefante in piedi nell'acqua per raffreddare le sue ferite hanno inondato Internet e tutto il web ha chiesto una severa punizione per i responsabili. Ne abbiamo parlato in questa notizia: elefantessa uccisa da ananas con petardi . Mohana Krishnan, un funzionario della sezione forestale che faceva parte del team Rapid Response che ha tentato di salvarla, ha pubblicato un post sull'incidente su Facebook . Il furore è cresciuto dopo che un'autopsia ha rivelato  che l'elefante era incinta.
Mentre alcune testate giornalistiche hanno riferito che l'animale è stato alimentato intenzionalmente con gli esplosivi, le ultime ricerche suggeriscono che il metodo era di solito usato per intrappolare e uccidere cinghiali e altri animali. I funzionari hanno sostenuto che Krishnan non aveva detto nel suo post che l'elefante era stato deliberatamente nutrito con un ananas ripieno di esplosivo. Ha invece evidenziato il pericolo dell'uso di esplosivi per allontanare gli animali selvatici. Ma dopo il tumulto, molti hanno condiviso opere d'arte in omaggio all'elefante sui social media. Ecco alcuni esempi:
Shame shame shame to humanity . Humanity has failed again………..
Save #Elephant. My SandArt at puri beach. pic.twitter.com/7J5A1OT1fh

— Sudarsan Pattnaik (@sudarsansand) June 4, 2020
- Prosegue dopo la pubblicità -
As a human iam sorry#Elephant pic.twitter.com/tm2aECzHCS

— karan acharya (@karanacharya7) June 3, 2020
As news of a pregnant #elephant killed in #kerala by being fed a pineapple stuffed with a firecracker makes the rounds, this is all I have to say. pic.twitter.com/yBJuqVgiyl

— Green Humour (@thetoonguy) June 3, 2020
- Prosegue dopo la pubblicità -
Pregnant elephant dies after eating cracker-stuffed pineapple! @sifydotcom cartoon pic.twitter.com/0CAtISh7AH

— Satish Acharya (@satishacharya) June 3, 2020
- Prosegue dopo la pubblicità -
Visualizza questo post su Instagram
- Prosegue dopo la pubblicità -
- Prosegue dopo la pubblicità -
- Prosegue dopo la pubblicità -
- Prosegue dopo la pubblicità -
Fonte:indianexpress.com
Questo articolo è stato scritto anche grazie al contributo di alcuni utenti del web (a tal proposito ricordiamo che scrivendo alla Pagina https://www.facebook.com/GloboChanneldotcom/ è possibile inviare segnalazioni, osservazioni anche con foto e video, inoltre è possibile seguire tutte le news anche su Telegram all'indirizzo https://t.me/globochannel). Inoltre è possibile seguire tutte le news anche sul gruppo Whatsapp di GloboChannel.com cliccando sul seguente link d'invito.